Archive from January, 2011
A delicious Peroni in Oak Park for my mom's birthday.
My Rolling Stone magazines come quick in the mail and I slowly catch up to them on the pot, so I just recently finished the John Lennon interview from a few issues back. Apparently RS doesn't like to share these things online so I can't link you to it (unless you sign up, which I have not), but there are some things in there that will really tear at you. Or, at least, me. Too many things to transcribe but…like this:
RS: You could also have your own late-night TV show–like "The Captain & Tennille."

JL: Yeah, of course we could. John and Yoko might do it one day. We often talk about that. It might be fun. But there's time, right? Plenty of time … It will be fun, won't it, to start 1981 like 1968?
The interview took place on Friday December 5, 1980.
Well, this is it. What else can be said? This could be the greatest moment in Chicago Bears history…defeating the Packers and heading to the Superbowl. Oh. My. God. I can't stand it!
But first there is the business of show. Milk at Midnight will return to the stage at Quenchers (Fullerton & Western, Chicago, IL) tonight for a very special acoustic performance, on what will no doubt be the coldest night of the winter. It always happens that way. We vowed to never play shows in the dead of winter but…our good friends in Magnetosphere and the Trilobytes have asked us to open up for them, so it will surely be a warm and inviting atmosphere surrounded by millions of beers and smiling faces. Who wants to stay home on a night like this anyway?
And no, I do not drive a Suburu.
I can barely stand it. This is just pure insanity. How did this happen?
Use it in a sentence: "Willya fetch me some feckin' whisky, lassie?"
It's hard to be civil in the face of such stupidity:
Rep. Trent Franks (R-Ariz.) said Wednesday that he wishes one additional person had possessed a firearm in Tucson on Saturday, presumably to use on Jared Lee Loughner.

"I wish there had been one more gun there that day in the hands of a responsible person, that's all I have to say."
As we wait patiently for the first ever documentation of an armed citizen stopping a madman's rampage…
Just to elaborate on what should be the main takeaway in this: the insane gun culture that exists in places like Tucson, Arizona…and all over America…
Republican Peter King has proposed federal legislation that would prevent people from knowingly bringing guns within 1,000 feet of an event at which members of Congress and federal judges are appearing. Whether this would have any effect on anything is quite debatable, for sure, and is probably nothing more than a symbolic law to make Republicans feel better about themselves, but…
The mere mention of it at a site like National Review, the most sane (?) right-wing corner (really, not saying much), is enough to set up off an alarm in the 2nd Amendment crowd, 95 comments strong (a lot for them), and filled with words of wisdom such as:
Why not require that EVERYONE be armed within 1000′ of a congressman? Polite debate and immediate dispatching of miscreants would take place. What's not to like?

This clown wouldn't have gotten off 30-odd shots first, of that much we can be sure.
Again, this is a common assertion, that an armed citizenry would have prevented something. That a crowd of holstered guns would be able to suddenly turn and react in a situation as this one, or in any other situation imaginable, taking out the shooter before any damage is done, saving innocent lives. How? Doesn't matter. They are convinced. But if it ever were to happen, this time in Tucson was the place, with its conceal and carry laws. In fact, I have read that some people at the event were indeed packing heat.
So…what happened?
The shooter was disarmed by three elderly unarmed citizens, one of them a woman, after getting off 31 shots and killing 6 people, injuring 14 more.
The law will never pass, nor will any gun control in this country, despite the logic, despite the truth, despite the madness. But take heart, vigilantes: Sales in Glock Pistols Up After Arizona Shootings.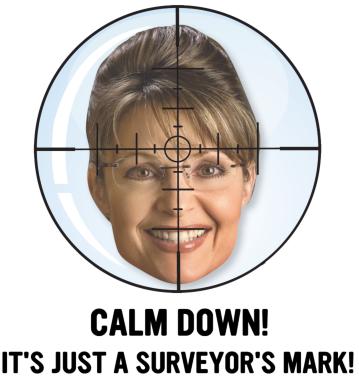 Hee hee hee…oh, it's all just so, so funny. Sigh…
OK, here goes:
No, I don't blame Sarah Palin for it. She's just a small part of the problem, and the problem is epidemic. No one should be surprised by any of this, it's been coming for some time, and judging by the response from the right-wing nutjobs it's hardly over. Ever since Obama became president there has been a fever in this country. Completely unjustified, but a fever still. An angry white mob suddenly discovered what the former president had left behind and took its wrath to the man just on the job. Didn't help that he was a Black Man, but no, that had nothing to do with it!
Anyway, this combustible atmosphere gathered 2nd Amendment fanatics for rallies under the Tea Party name, scrawling signs that threatened a less peaceful and more fully-armed response ("We came unarmed…this time!"). But it wasn't just ordinary folks who took up the battle cries; Sharron Angle, in her failed quest to unseat Harry Reid in Nevada, declared that "people are really looking toward those Second Amendment remedies and saying my goodness what can we do to turn this country around? I'll tell you the first thing we need to do is take Harry Reid out."
Palin famously advised her followers: "Don't Retreat, Instead – RELOAD!" Michelle Bachmann–what, are the Republicans using the women as soft weapons or what?!?–warned of tyranny and revolution if Obama and the Democrats continued to get their way. And all powered to the people through a right-wing media juggernaut, Fox News, and their corresponding talk-radio counterparts.
So this is just the history leading up to the point. We all saw it. None of this is news. But it did not go unnoticed:
The fact that an unstable man could get the weaponry to perform such an act is a separate problem, huge and essential to all of this. But in Arizona it is apparently legal to enter your local saloon armed and loaded and ready for some boozin.' Makes sense, yeah? But it's a problem I long ago gave up trying to understand, because I live in America! We love our guns. We need them. And so if this deranged man is able to shoot off 31 shots and then stop to reload (not retreat!), well, what the hell are we supposed to do, deprive him of his 2nd Amendment rights?!?
So no, not surprising. But man, I do worry about our president's safety, and all of those folks in public service, even more.
UPDATE:
And one more thing: when is the concealed weapon thing going to work? I often hear as an argument, in places where gun laws are stricter, that vigilantes are prevented from stopping such attacks. An armed citizenry could have taken this guy out and prevented more bloodshed! Or, if only the church-goers/students in the library/fast-food patrons would have been packing heat! But this. Never. Happens. Not even in a gun-crazy state like Arizona. Oh, one day…one day it will! But this time it was a 61 year old woman who stopped the killer from further damage. By grabbing his spare ammo. Now that's courage, you gun-nuts.
Radiohead for Haiti, full concert on YouTube.